Hello,
I've weird situation when opening webi report in BI launch pad.
I'm not able to send the report to user's inbox or in email after report is open webi. The "Send to" button is disabled. However, there is no issue if I select the report from the folder then right click and I can select "Send to" inbox.
I've given Full Control access to the group "Everyone" and I still don't see "Send to" button activated when a report is opened. The user "T_send_to" is a member of "Everyone" group. I've given the "Everyone" group to Full Control access to "Monitoring Report Samples" folder. Here are other access Everyone group has (CMC):
Inbox – Full Control (not the Full Control (Owner), but Full Control)
Personal Folders – Full control
Temporary Storage – Full Control
Application–> Web Intelligence – Full Control
Application–> BI launchpad – Full Control
Folder – Full Control
I even tried adding this user "T_send_to" to "Administrator group and "Send to" is still disabled. See SS attached.
What other access controls the "Send to" access in webi?

I'm currently using BO 4.2 SP2 in tomcat/Java env.
Any help would be appreciated.
Thanks,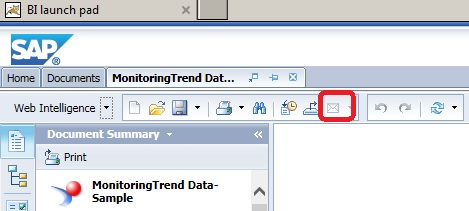 ---
zulu1900 (BOB member since 2005-07-27)