Apologies if this has been asked before, but I've struggled to find an answer that can help.
I have a list of dates that I want to compare, they have bay numbers and the date/time that the product went into the bay. Different work is done in each bay, and the bays do not have to go in number sequence, and can be in any order.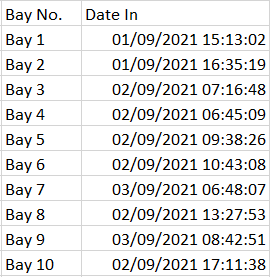 This image shows all of the bays and the time the product entered the bay.
Once sorted into date order, the sequence of bays for this particular product is Bay 1, 2, 4, 3, 5, 6, 8, 10, 7, 9.
I want to be able to see the difference between the two dates in order of when they occurred, and then sum the total.
Is this possible, or am I barking up the wrong tree?