Hi,
My company is switching to WEBI and I'm attempting to recreate the prior Access reports that we used to do.
Basically I have date, ID, Measure1, Measure2, and a Variable which is defined as maximum of Measure 2 less Measure 1 or 0.
Date and ID are dimensions and Measure1 and Measure2 are measures. The Variable is just a IF statement to compare Measure1 and Measure2 and to take the difference if Measure2 is greater, otherwise show 0.
What I want is to remove the ID column and not have it shown. However, I can't seem to be able to do that without messing up the calculation. In the picture, I want the 10 shown as total but if I try to take out the ID column, the Variable calculates the subtotals so since the total of Measure2 is lower, it shows 0 when it should be 10.
Is there any way around this?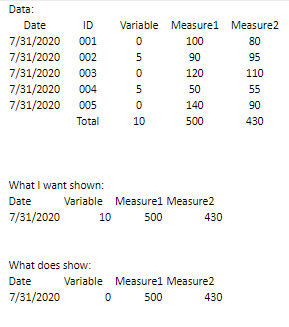 ---
Temujin (BOB member since 2020-08-27)